Novelty Ornaments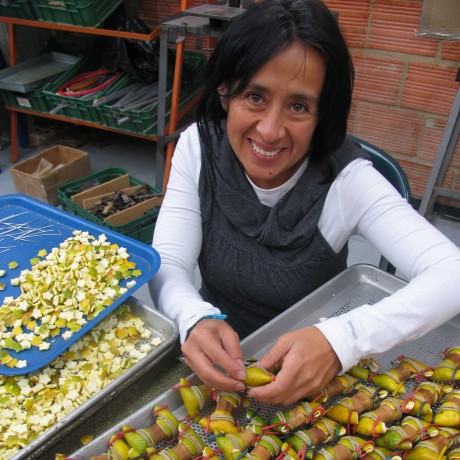 Aria Handmade is proud to offer these delicately fragrant novelty ornaments by Sapias' founder, Ana Piedrahita. While in Uruguay, Ana came across a small jewelry box made entirely from dried orange peels. Needless to say Ana's "WOW" moment was born.

Back in her home town of Bogotá, Columbia Ana's used the catalyst of the small orange peel box to set her own entrepreneurial sprit in motion and designed and refined the art of using orange peels into a fragrant whimsical product line.

Orange peels are a perfect canvas for Ana to draw on as street vendors through out the city sell fresh squeezed orange juice to tourist discarding the peels for Ana to recycle into these wonderful novelty ornaments. Seeing her fruition come together nicely Ana began expanding her materials using cornhusks and the tagua nut which is harvested from the floors of the rainforest. This exemplifies Ana's commitment to being eco-friendly while using sustainable elements in her design.
The Holidays are about giving and your purchase of one these novelty ornaments is a gift that keeps on giving, helping sustain the delicate economy in Bogotá and providing much need employment opportunities for its people and Sapia is a leader in that category.
These novelty ornaments are sustainable, eco-friendly and provide a wonderful soothing aroma of fresh citrus for approximately six months.